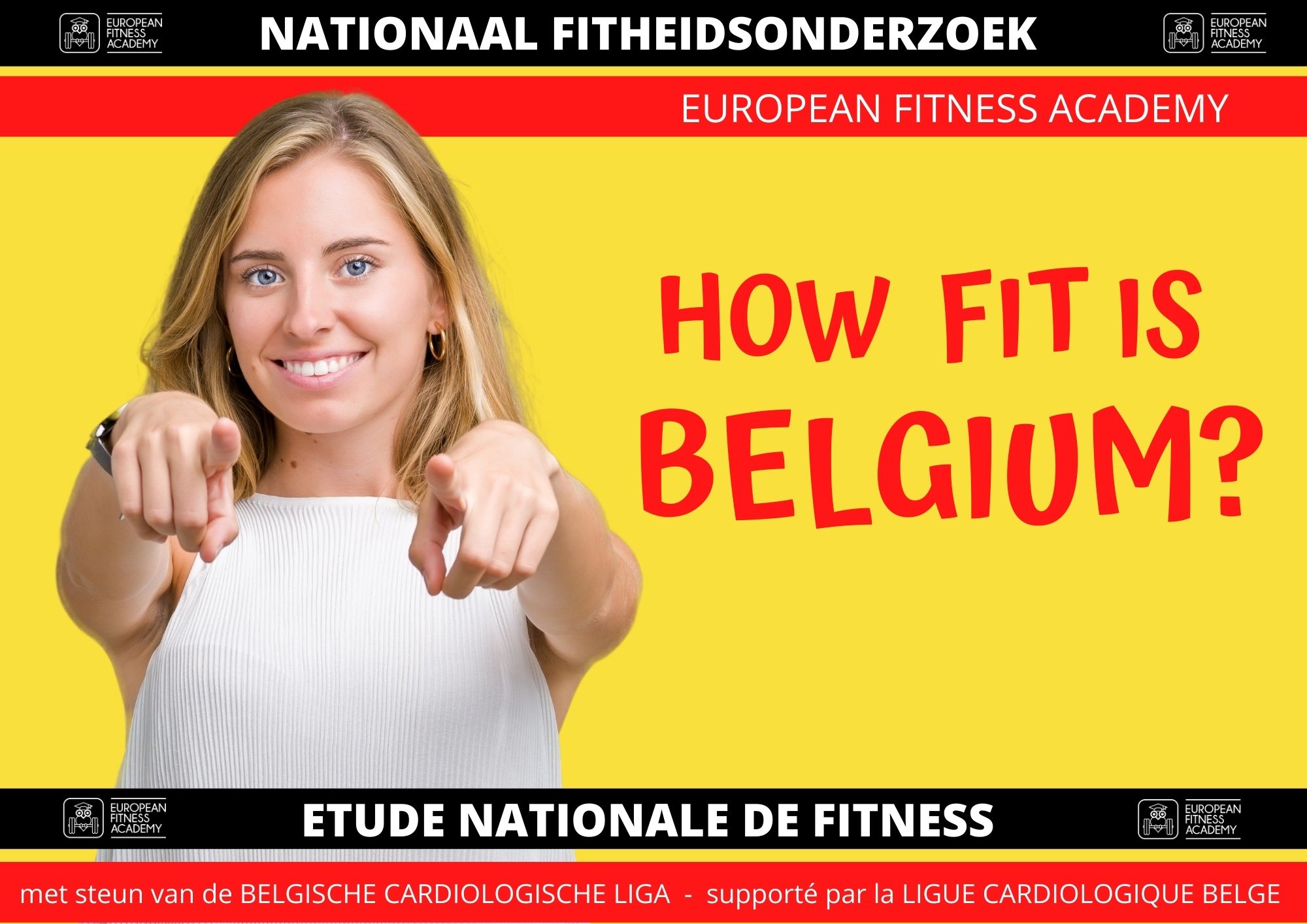 The National Fitness Research 'How Fit Is Belgium?'
An initiative of European Fitness Academy with the support of the Belgian Heart League
What is "HOW FIT IS BELGIUM"?
"How Fit Is Belgium" is a nation-wide fitness study conducted by the European Fitness Academy in 2022 with the support of the Belgian Heart League, taking place in more than 50 municipalities in Flanders and Wallonia.
The physical condition of Belgians has taken a hit. Half of our compatriots are overweight or struggling with high blood pressure, high cholesterol levels, or diabetes. Cardiovascular disease remains the No. 1 cause of death.
But there is good news as well: We can change that! Not only is Belgium home to some of the world's finest fitness instructors, it also houses the world's most amazing gyms.
With the help of physicians and other experts, we have developed a fiveweek study designed to bring out the best in each and every one of our participants. Our workout plan consists of two guided workouts per week.
Our fitness instructors undergo thorough training so that they can support and accompany every participant according to their needs. Young or youngat-heart, in or out of shape: Everyone can participate!
We will prove that all Belgians can make serious progress in just five weeks. Their general condition will improve, they will gain strength and burn a significant amount of fat. The participants will emerge from this project stronger, in better shape and healthier.

"More than half of Belgians have a cardiovascular disease. However, regular exercise is an excellent prevention with a strong protective effect. Many scientific studies prove this! With our 5-week research, we help you to take the right first step by starting fitness now"s"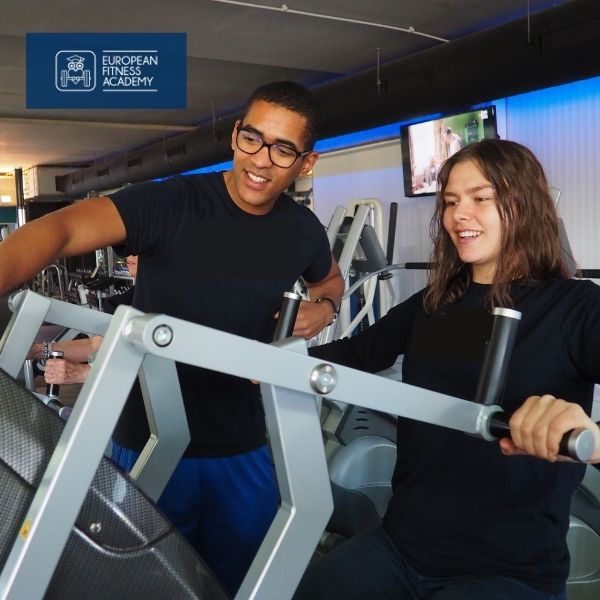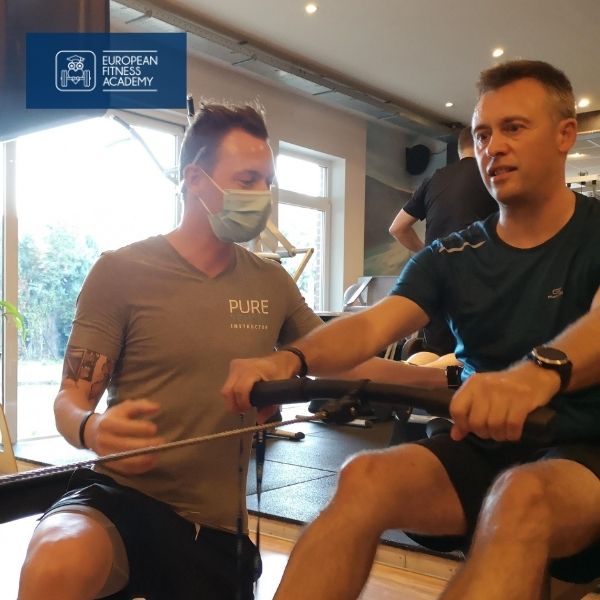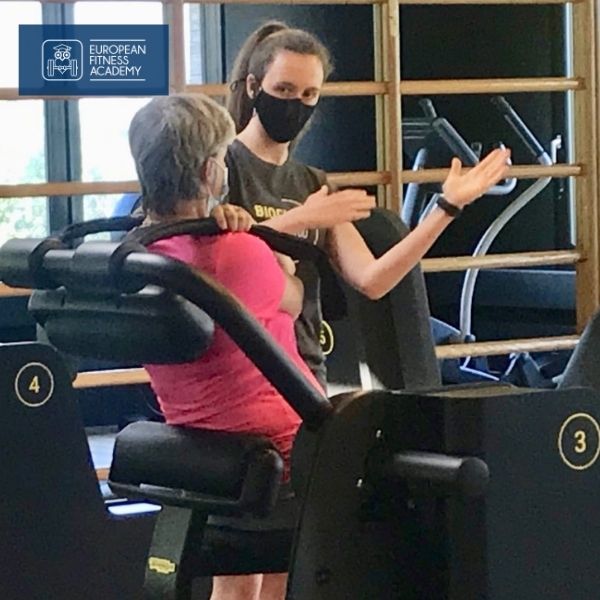 COMMITMENT
Coronavirus resulted in a year of dull socio-economic misery and hospitals being overwhelmed. 
Many compatriots are left physically and mentally battered. The lockdowns caused a serious lack of physical exercise, which in turn resulted in unhealthy excess coronavirus pounds. As a result, general practitioners reported an alarming increase in patients suffering from depression. 
We now know that physical inactivity is the greatest risk factor for severe COVID-19, and that it significantly increases a person's chances of dying from it.(1) 
We have known for some time that physical inactivity is a major risk factor for many other conditions, such as obesity, high blood pressure, cholesterol, diabetes and cardiovascular disease. Scientists describe this alarming condition as 'THE PANDEMIC OF PHYSICAL INACTIVITY'.(2) 
So we know that physical inactivity is the weak link in our society. 
COMMITMENT OF THE EUROPEAN FITNESS ACADEMY  
We are the experts in the field of physical fitness and physical reconditioning. It is our social obligation to offer our expertise and show our unconditional commitment. 
We aim to encourage all physically inactive people to start working out. Fitness as the foundation of an active and healthy lifestyle. Fitness as the basis of strong physical and mental health.
(1) https://bjsm.bmj.com/content/early/2021/04/07/bjsports-2021-104080
(2) https://www.thelancet.com/journals/lancet/article/PIIS0140-6736(12)60898-8/fulltext 
Bart Colombie
founder and CEO, European Fitness Academy

*Source: J. Van der Heyden, D. Nguyen, F. Renard, A. Scohy, S. Demarest, S. Drieskens, L. Gisle. Belgisch gezondheidsonderzoek 2018. Brussel, België : Sciensano ; Rapportnummer: 2019/14.440/89. Beschikbaar op: www.gezondheidsenquete.be
WHY FITNESS? 
Fitness is the only type of physical exercise where the amount of effort for both cardio and strength exercises can be adjusted to the needs, capabilities and limitations of each individual. The initial intensity is minimal and the build-up is progressive.   
MEASURABLE RESULTS AND HEALTH BENEFITS FOR EVERY BEGINNER 
For this reason, fitness is the only type of physical exercise that offers a feasible and effective starting point for the physically vulnerable as well as for those in the 50% risk group, as a prevention or remedy against this pandemic of physical inactivity, AKA the pandemic of the metabolic syndrome, AKA the pandemic of overweight and obesity.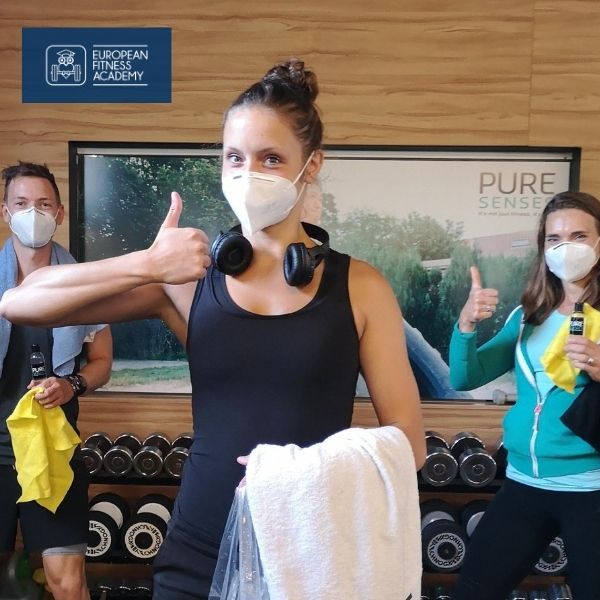 GOOD NEWS!
Belgium's best fitness instructors are ready to kick off a journey towards strength and a healthier lifestyle with each and every one in Belgium!
"We will show that in a timespan of just five weeks, the participants' level of strength, general condition and ability to burn excess fat can improve. Everyone can be a part of this journey and achieve the best possible result, even self-declared couch potatoes who are totally out of shape. The five-week study will help our participants gain strength, get in shape and lead a healthier life."

yes, I want to join!
© European Fitness Academy | European Fitness Academy is a registered trademark | Disclaimer & Privacy